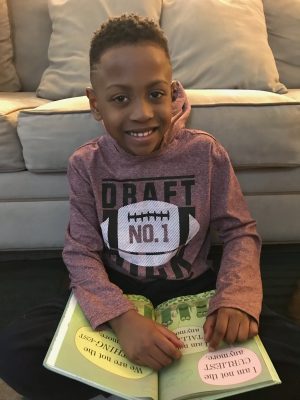 The "April Showers Bring May Books Contest" is designed to introduce our children and families to the importance of Early Literacy.
Objective : Each library, school, daycare, and/or child care provider will compete to register as many children as possible for the "1000 Books Before Kindergarten program" (#1000BooksB4K). Once they are registered, support and encourage the family to complete the first log sheet within that month.  Promote the event and be as creative as possible to recruit new "readers". The top 5 libraries with the most NEW children registrations wins!
Who can participate? : 1) All Libraries, schools, daycares, and/or child care providers; 2) any child between the age of birth-6 who is NOT currently enrolled in our program.
How can children & families register?  These two steps must be completed for Registration:
Your library is responsible for keeping an accurate log sheet of all new participants. On April 15th, email a copy of the following completed new registrant log sheet (downloadable link) to jerrice@1000booksfoundation.org . This form serves as your entry sheet for the contest.
On April 30th, the final log sheet must be emailed to the same email address no later than 11:59pm EST. No late submissions will be accepted. The top 5 winners will be notified by email or phone by May 25, 2018.
When does the contest begin and end? April 1st– April 30th, 2018
 Prizes: The top 5 Libraries with the most number of new registrants receive;
A donation of Jumping Cow Press books,
An official certificate from the 1000 Books Foundation,
Autographed copies of 1000 Books Before Kindergarten: A Promise and A Pledge and 1000 Books Before Kindergarten: My Journey to 1,000 Books,
Bragging rights for the winning locations, and
A trophy to be displayed at the winning locations.
 "Children are made readers on the laps of their parents"- Emilie Buchwald"