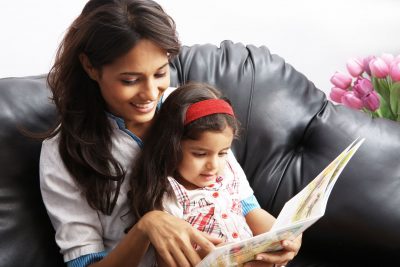 The concept is simple, the rewards are priceless. Read a book (any book) to your newborn, infant, and/or toddler. The goal is to have read 1,000 books (yes you can repeat books) before your precious one starts kindergarten. Does it sound hard? Not really if you think about it. If you read just 1 book a night, you will have read about 365 books in a year. That is 730 books in two years and 1,095 books in three years. If you consider that most children start kindergarten at around 5 years of age, you have more time than you think (so get started).
The key is perseverance. Make it exciting. When your child reaches a milestone, give him/her a small reward (stickers, backpacks, books). Most local programs already have a reward system built into place. If a program is not available where you live, join our program today. Most of all be creative!
Make a record of what you are reading in a spiral notebook, online, or by whatever method you want. The journal itself will make a great keepsake item for your precious child. If you are able to, make sure to keep a record of "any" book that is being read to your child. This includes teachers and siblings.
Are you ready to get started? Download our convenient reading logs (or use our iPhone App or Android App) and our recommended reading list:
Program Instructions
Reading Log Sheets
Commemorate Your Child's Journey (Take a picture with your child holding and share on Facebook, Twitter, Instagram, Pinterest) #1000BooksB4K

iPhone App
Reading Lists
1000 Books Before Kindergarten Swag (items for nominal cost)
Subscribe to our mailing list to receive the latest news and offers from the 1000 Books Foundation.