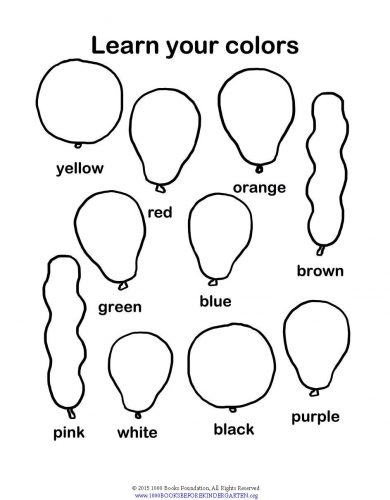 Absolutely FREE "Learn Your Colors (by coloring balloons)" activity sheet. The 1000 Books Foundation is pleased to announce that children's book illustrator, Izzy Bean has completed the illustrations for the forthcoming (Spring of 2016) 1000 Books Before Kindergarten: My Journey to 1,000 Books (Activity Journal).
The 1000 Books Foundation really appreciates all the feedback that we have received from all the librarians, teachers, daycare providers, parents/caregivers and children in helping us complete and finalize the activity journal. Please enjoy this video of a child completing the "Learn Your Colors (by coloring balloons)" activity sheet, which is also provided below as a free downloadable .pdf.
We would especially like to recognize, Ms. Lauren van der Camp. Lauren received her Bachelor's degree from Washington University in St. Louis and her Master's degree from DePaul University in Chicago, receiving multiple academic awards from both institutions. In 2008, Lauren began teaching math and English to struggling students ranging from kindergarten to 12th grade at various Chicago public schools. Lauren has graciously volunteered her time to create awesome worksheets for an additional forthcoming (Fall of 2016) activity workbook.
1000 Books Foundation
Partnership Contact: Wesley Su
book@1000BooksFoundation.org