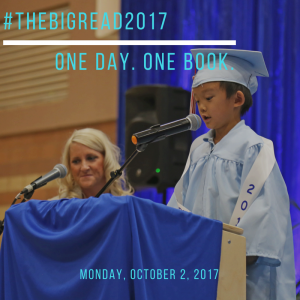 Las Vegas, Nevada, July 2017 — The 1000 Books Foundation is proud to announce that The Big Read 2017 has been scheduled for October 2, 2017. We encourage all parents/caregivers to participate in this one-day event online event. One Day. One Book.
What is The Big Read?
The Big Read is our annual one-day, online event to kickstart early childhood reading.  We simply ask all parents/caregivers to read one book to their child. Of course, you can read as many as you wish, as you embark upon the journey of reading 1000 Books Before Kindergarten.
What's the goal?
This worldwide campaign is coordinated by the 1000 Books Foundation, a Nevada-based 501(c)(3) nonprofit public charity in partnership with other nonprofit partners. The goal of The Big Read is to promote the importance of early childhood literacy and inspire all parents & caregivers to read with their children.
Why should people care about The Big Read?
Numerous studies have proven that children who are exposed to reading early in life do better in school. Thus, not only will you gain quality quite time with your child, you will be giving them a head start and grow their confidence to succeed.
How do I get involved?
It's very simple, on October 2, 2017, read a book to your child. Then use the hashtag #TheBigGive2017 to post your involvement on social matter (e.g, Facebook/Twitter/Instagram, etc.)  We also ask, if you're able, to please donate a dollar to the 1000 Books Foundation so that we can continue to innovate, grow and inspire children all over the world!
If you or your organization want to get further involved with The Big Read, please contact Ms. Jerrice Moore, community@1000BooksFoundation.org